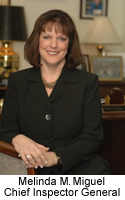 Welcome to the Florida Inspectors General web site. I am privileged to serve as Florida's Chief Inspector General. It is truly an honor to be part of a profession that serves such an important role in ensuring that the people of Florida are receiving fair value for their tax dollars. As mandated by the Florida Inspector General Act of 1994, our mission is to promote economy, efficiency, and effectiveness in state government and detect, deter, and prevent fraud, waste, and abuse. Every state agency has an inspector general who achieves their mission through conducting professional and independent investigations, audits, and reviews. Our goal is to enhance public trust in government.
This site serves as a resource for federal, state, and local inspectors general to share best practices and inform the public about our achievements and ongoing initiatives.
It's everyone's responsibility to report fraud, waste, and abuse. Your involvement plays a vital role in us achieving our mission. As such, this site provides a link to each state agency inspector general where information can be obtained and complaints filed. This site also provides on-line complaint forms that can be submitted directly to the Office of the Chief Inspector General.
Together, I am confident that we can continue to make certain that Florida government utilizes resources wisely, and ensures that the public interest is served.
The Chief Inspector General can be reached at:
Office of the Chief Inspector General
Room 2103 - The Capitol
Tallahassee, FL 32399-0001
Phone: (850) 717-9264
Fax: (850) 921-0817
E-Mail:
cig@eog.myflorida.com